The 1843 interview Ian Rankin: doing a jigsaw is like investigating a murder Puzzles help the Scottish novelist piece together the world. We raised the Pride flag at Province House yesterday, expressing our commitment to equality, inclusion, and diversity. It was a great event. Among the speakers was Andrea Anderson, our Public Service Commissioner. Andrea is the first African Nova Scotian to serve in this role.
Ian Rankin has been elected a. Born in the Kingdom of Fife in 1960, Ian Rankin graduated from the University of Edinburgh in 1982 and then spent three years writing novels when he was supposed to be working towards a PhD in Scottish Literature. Ken Stott stars as the eponymous hero Detective Inspector John Rebus in ten classic adaptations of Ian Rankin's worldwide best-selling crime novels of the same name. Set in Edinburgh, the mercurial Rebus's investigations lead him through the city's ancient beauty and into its more.
Author: Ian Rankin Submitted by: Maria Garcia 12685 Views View Chapter List Add a Review
The Falls: An Inspector Rebus Novel PDF book (Inspector Rebus) (Inspector Rebus Series) Read Online or Free Download in ePUB, PDF or MOBI eBooks. Published in 2001 the book become immediate popular and critical acclaim in mystery, mystery books.
Ian Rankin Rebus Series
The main characters of The Falls: An Inspector Rebus Novel novel are Inspector John Rebus, Emma. The book has been awarded with Barry Award Nominee for Best British Crime Novel (2002), Deutscher Krimi Preis for 2. Platz International (2003) and many others.
One of the Best Works of Ian Rankin. published in multiple languages including English, consists of 480 pages and is available in Paperback format for offline reading.
Suggested PDF: Fleshmarket Alley: An Inspector Rebus Novel pdf
The Falls: An Inspector Rebus Novel PDF Details
| | |
| --- | --- |
| Author: | Ian Rankin |
| Book Format: | Paperback |
| Original Title: | The Falls: An Inspector Rebus Novel |
| Number Of Pages: | 480 pages |
| First Published in: | 2001 |
| Latest Edition: | August 17th 2010 |
| Series: | Inspector Rebus #12 |
| Language: | English |
| Awards: | Barry Award Nominee for Best British Crime Novel (2002), Deutscher Krimi Preis for 2. Platz International (2003) |
| Generes: | Mystery, Mystery, Crime, Fiction, Cultural, Scotland, Thriller, Thriller, Mystery Thriller, Mystery, Detective, Contemporary, European Literature, British Literature, Mystery, Murder Mystery, |
| Main Characters: | Inspector John Rebus |
| Formats: | audible mp3, ePUB(Android), kindle, and audiobook. |
Ian Rankin Author
Other Books From Inspector Rebus Series
Knots and Crosses
Hide and Seek
Tooth and Nail
Exit Music
Black and Blue
Standing in Another Mans Grave
Strip Jack
The Black Book
The Falls
Fleshmarket Close
View All
The book can be easily translated to readable Russian, English, Hindi, Spanish, Chinese, Bengali, Malaysian, French, Portuguese, Indonesian, German, Arabic, Japanese and many others.
Please note that the characters, names or techniques listed in The Falls: An Inspector Rebus Novel is a work of fiction and is meant for entertainment purposes only, except for biography and other cases. we do not intend to hurt the sentiments of any community, individual, sect or religion
DMCA and Copyright: Dear all, most of the website is community built, users are uploading hundred of books everyday, which makes really hard for us to identify copyrighted material, please contact us if you want any material removed.
The Falls: An Inspector Rebus Novel Read Online
Please refresh (CTRL + F5) the page if you are unable to click on View or Download buttons
| # | Chapters |
| --- | --- |
| 1 | Chapter 1 |
| 2 | Chapter 2 |
| 3 | Chapter 3 |
| 4 | Chapter 4 |
| 5 | Chapter 5 |
| 6 | Chapter 6 |
| 7 | Chapter 7 |
| 8 | Chapter 8 |
| 9 | Chapter 9 |
| 10 | Chapter 10 |
| 11 | Chapter 11 |
| 12 | Chapter 12 |
| 13 | Chapter 13 |
| 14 | Chapter 14 |
| 15 | Chapter 15 |
| 16 | Chapter 16 |
| 17 | Chapter 17 |
| 18 | Chapter 18 |
| 19 | Chapter 19 |
| 20 | Chapter 20 |
| 21 | Chapter 21 |
| 22 | Chapter 22 |
| 23 | Chapter 23 |
| 24 | Chapter 24 |
Html Version Best for Mobile & Desktop
Complete Book (Online)
Html Version Best for Mobile & Desktop
Complete Book (All Chapters)
Google Drive Link
Comments
Great book, nicely written and thank you BooksVooks for uploading
Share your Thoughts for The Falls: An Inspector Rebus Novel
PDF's Related toThe Falls: An Inspector Rebus Novel
| | |
| --- | --- |
| The Falls: An Inspector Rebus Novel by Ian Rankin | Fleshmarket Alley: An Inspector Rebus Novel by Ian Rankin |
| An Inspector Calls by J.B. Priestley | The Tax Inspector by Peter Carey |
| The Inspector General by Nikolai Gogol | The False Inspector Dew by Peter Lovesey |
| Inspector of the Dead by David Morrell | The Inspector and Mrs. Jeffries by Emily Brightwell |
Popular Books
A Playlist for Ian Rankin's Inspector Rebus Series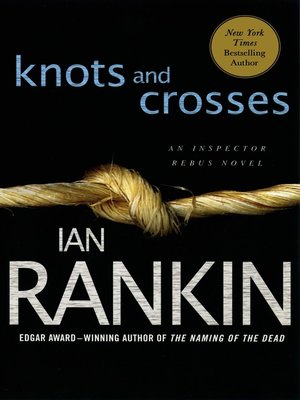 Tajana (*sighs*) found a bookish Q&A on Tumblr and recently shared it on her BookLikes blog. One of the items on the list is:
'Make a mini playlist for one of your favorite books.'
Well, seeing as music in the Rebus books is very much about Rebus's overall tastes, as well as Ian Rankin's own (the latter, smuggled in through Rebus's sidekick, Siobhan Clarke), there really isn't any point in singling out any individual book ... let's go the whole hog and have a list for the entire series, shall we?
As Rankin is fairly explicit about Rebus's major favorites -- Rolling Stones, Rolling Stones, and then some -- to a certain extent this list almost writes itself; all the more since in his nonfiction companion book, Rebus's Scotland, Rankin himself actually reels off a pretty extensive list of artists that either Rebus or he himself (or Siobhan Clarke) would consider favorites. But there's still plenty of room to be creative, as Rankin's focus is more on the artists themselves, not on individual songs or albums. And anyway, what's to stop me from adding a few choices of my own? So, here we go:
Obviously the list needs to be built around those albums and songs (chiefly, but not exclusively, by the Stones) that even provided book titles for the series:
* The Rolling Stones: Beggars Banquet, Let It Bleed, and Black and Blue
* Radiohead: Exit Music (for a film) (album: OK Computer)
* Jackie Leven:Another Man's Rain and One Man One Guitar (both from the album Oh What a Blow That Phantom Dealt Me!)
And since Rankin himself, like Rebus, also has a particular and lasting fondness for Jackie Leven and in 2004 even appeared live together with him at Queen's Hall, Edinburgh, which later yielded their joint release, Jackie Leven Said, obviously that whole recording needs to go onto the playlist as well.
Moreover, as Rankin specifies that Rebus is generally a fan of 'mid-period Stones' (by which he means the albums from the late 1960s and the early 1970s), let's also throw in their two other major blockbuster albums from that period; as well as, for my own gratification, the very first Stones song I ever heard, and which is stll one of my absolute favorites (even though it's early and not 'mid-period' Stones):
* Sticky Fingers
* Exile on Main Street
* (I Can't Get No) Satisfaction (album: Out of Our Heads [U.S. version])
Moving on to other artists, as bands and artists that Rebus does, or would probably like, Rankin mentions the following -- for whom I've taken the liberty to add one or several fairly iconic song titles or, in individual cases, entire albums:
* Leonard Cohen:Songs of Leonard Cohen (entire album)
* The Who:My Generation (album: My Generation), Pinball Wizard (album: Tommy), Who's Next (entire album)
* The Surfaris:Wipe Out (album: Wipe Out)
* Frank Zappa:Bobby Brown (Goes Down) (album: Sheik Yerbouti)
* Maggie Bell:Midnight Flyer (album: Midnight Flyer)
* Frankie Miller:Darlin' (album: Falling in Love)
* Status Quo:Whatever You Want (album: Whatever You Want), Rockin' All Over the World (album: Rockin' All Over the World)
* Jethro Tull:Locomotive Breath (album: Aqualung)
* David Bowie:Heroes (album: Heroes), Space Oddity (album: Space Oddity)
* Van Morrison:Moondance (album: Moondance)
* Barclay James Harvest:Child of the Universe and The Great 1974 Mining Disaster (both from the album Everyone Is Everybody Else), Hymn (album: Gone to Earth)
* Tom Waits:Ol' 55 (album: Closing Time), Tom Traubert's Blues (album: Small Change)
* Nazareth:Love Hurts (allbum: Hair of the Dog), Dream On (album: 2XS), This Flight Tonight (album: Loud'n Proud), Shanghai'd in Shanghai (album: Rampant)
* Alex Harvey / SAHB:Next and The Faith Healer (both from the album Next), Delilah (album: Live)
* The Incredible String Band:A Very Cellular Song (album: The Hangman's Beautiful Daughter)
* Donovan:Universal Soldier (album: Universal Soldier), Hurdy Gurdy Man (album: The Hurdy Gurdy Man)
* John Martyn:May You Never (album: Solid Air)
* Carol Kidd:The Night We Called It a Day (album: The Night We Called It a Day)

The next group of artists are those that Rankin either mentions explicitly as among the ones that have played a pivotal role in his own life (especially the first five; for the first three, he even specifies the songs listed here), or suggests they'd be artists that Siobhan Clarke would like -- some of the series's books indeed have her listening to some of them -- which by extension, as per his general explanations, also means there's a certain likelihood that Rankin himself listens to them:
* The Clash:London Calling (album: London Calling)
* Big Country:In a Big Country (album: The Crossing)
* Simon & Garfunkel:The Boxer (album: Bridge Over Troubled Water -- and for my own gratification, let's add the title track as well, shall we?)
* Peter Gabriel: Solsbury Hill (album: Car), Games Without Frontiers (album: Melt), Sledgehammer (album: So)
* Rory Gallagher: Tattoo (entire album)
* The Beatles:A Day in the Life and She's Leaving Home (both from the album Sgt. Pepper's Lonely Hearts Club Band)
* Cream:Sunshine of Your Love (album: Disraeli Gears), I Feel Free (album: Fresh Cream), White Room (album: Wheels on Fire)
* Deacon Blue:Real Gone Kid (album: When the World Knows Your Name)
* Edwyn Collins:A Girl Like You (album: Gorgeous George)
* Mogwai:Mr. Beast (entire album)
* The Blue Nile:Easter Parade, duet version with Rickie Lee Jones (originally from the album A Walk Across the Rooftops)
* Josef K:It's Kinda Funny, Sorry For Laughing, The Missionary (all from the album The Only Fun in Town)
* Cocteau Twins:Iceblink Luck (album: Heaven or Las Vegas)
* Belle and Sebastian:Seymour Stein and The Boy with the Arab Strap (both from the album The Boy with the Arab Strap)
* Tommy Smith:Seal (album: Beasts of Scotland)
* Rod Stewart:Downtown Train (album: Storyteller – The Complete Anthology: 1964–1990)
Finally, just for myself I'd add to the above:
* Guns'n Roses:Sympathy for the Devil (from the soundtrack for the movie Interview With the Vampire)
* Dire Straits:Sultans of Swing (album: Dire Straits), Brothers in Arms (album: Brothers in Arms), Telegraph Road and Private Investigations (both from the album Love Over Gold)
* Mark Knopfler:What It Is, The Last Laugh (duet with Van Morrison), Silvertown Blues (all from the album Sailing to Philadelphia), 5.15 AM (album: Shangri-La), Going Home (from the soundtrack for the movie Local Hero)
* The Police:Don't Stand So Close to Me (album: Zenyatta Mondatta)
* Sting:Moon Over Bourbon Street (album: Dream of the Blue Turtles), Fields of Gold (album: Ten Summoner's Tales)
* Pink Floyd:Wish You Were Here and Shine on You Crazy Diamond (both from the album Wish You Were Here), Money (album: Dark Side of the Moon)
* The Talking Heads:Once in a Lifetime (album: Remain in Light), Burning Down the House (album: Speaking in Tongues), And She Was and Road to Nowhere (album: Little Creatures)
* U2:Sunday Bloody Sunday (album: War), The Fly and Mysterious Ways (both from the album Achtung Baby), Elevation (album: All That You Can't Leave Behind)
* Muse: Invincible (album: Black Holes and Revelations), Uprising, Resistance, Undisclosed Desires (all from the album The Resistance), Survival (album: The 2nd Law)
* Hurts: Wonderful Life and Stay (both from the album Happiness)
* The Cranberries:Zombie (album: No Need to Argue)

* Annie Lenox:Medusa (entire album)
* Amy Macdonald:This Is the Life (album: This Is the Life), Slow It Down (album: Life in a Beautiful Light)